Many of us in the Hong Kong tech community have followed the Uber closely from afar - watching with jealousy as our friends in the valley and NYC tweet about riding around in Uber comfort. City after city in Asia launched Uber: Taipei, Singapore, Shanghai - but not Hong Kong! A couple weeks I got wind of a soft launch party for Uber Shenzhen. I was both curious to learn about and try the service as I was to see how a start-up that's raised over a quarter of a billion dollars from the likes of Google and Goldman-Sachs rolls. So I dropped everything, grabbed my passport and took the HK$7 minibus to the border.
Happy hour
The soft launch party was a happy hour event at the Futian Shangri-la in downtown Shenzhen. It was a half-indoor, half-outdoor bar/tent venue. Uber's Martin Li, the man in charge of the Shenzhen market, greeted everyone at the door. The usual Shenzhen English-speaking tech crowd was well-represented...over-represented in fact since Shenzhen is a Chinese city. But this wasn't surprising since Uber is an American company and seems to have hired management from outside of China. Or perhaps the local tech crowd was too busy hanging out with local Internet giant Tencent celebrating its $100 million investment in Uber competitor Didi Dache?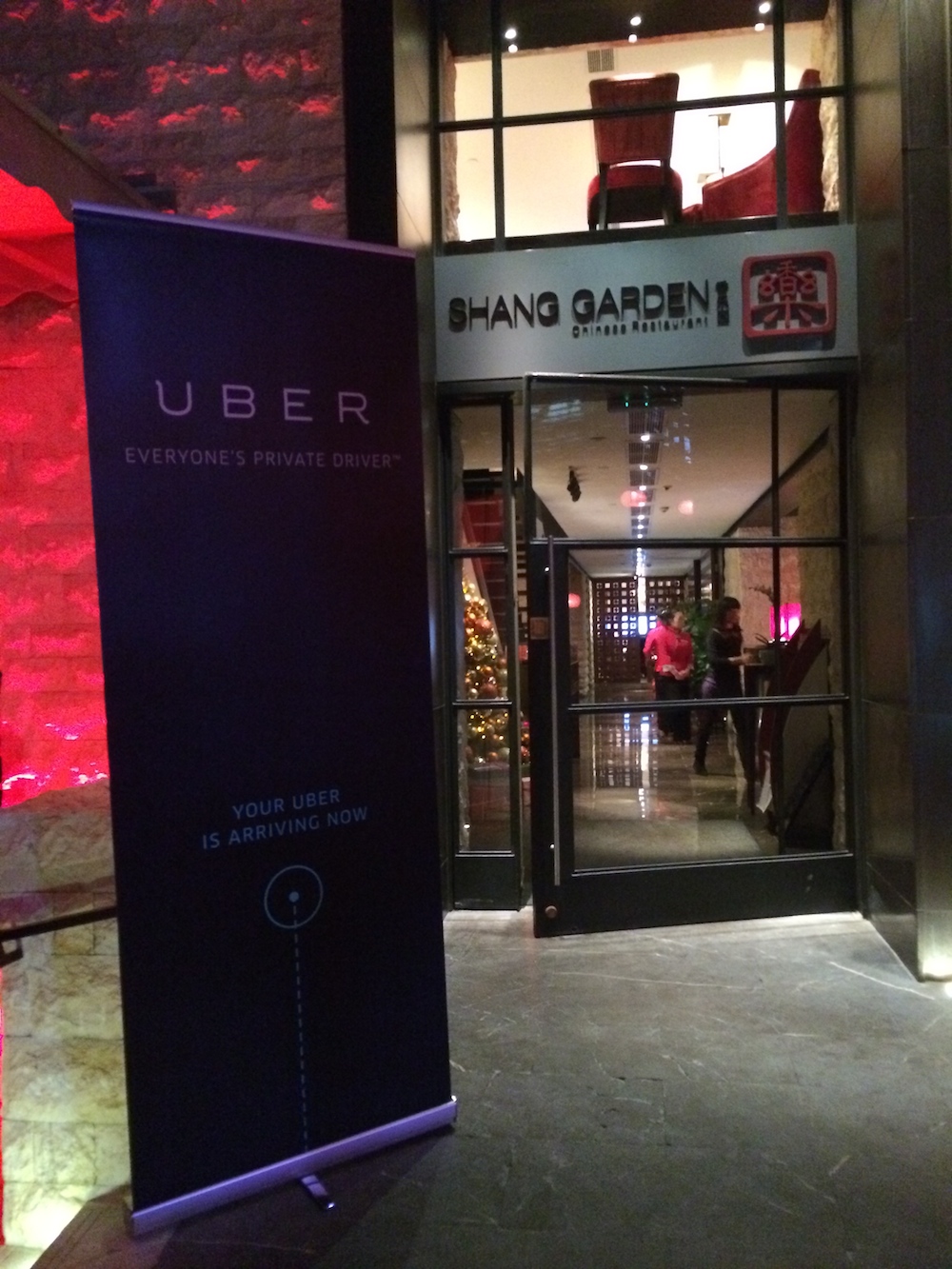 It was great to chat with the Uber Shenzhen team and understand how they're rolling out the service. Martin encouraged me to try the service and share any problems. Since finding bugs is what my company Pay4Bugs does, I was more than happy to oblige!
I tried Uber out roughly a half dozen times around Christmas and in this post, I'll share the problems I saw and why I think they're no big deal.
Stick with me to the end of the post...I've got codes to share that will get you two free Uber rides in Guangzhou and Shenzhen!
What's wrong
1. Drivers haven't bought in
I asked each of my drivers what they thought of Uber. All of them were concerned about the viability of the business model in China. One driver asked me if taking a cab wouldn't just be easier after driving 30 minutes across the city the pick me up. Another was concerned that the cost of the car he was driving, well on the way to $100k, was more than Uber is charging riders for the service. A valid concern consider Uber rates in Guangzhou are only marginally more than taxi fares. A third was concerned that no one besides foreigners and overseas Chinese seemed to be using the service.
2. Uber Shenzhen drivers don't know the city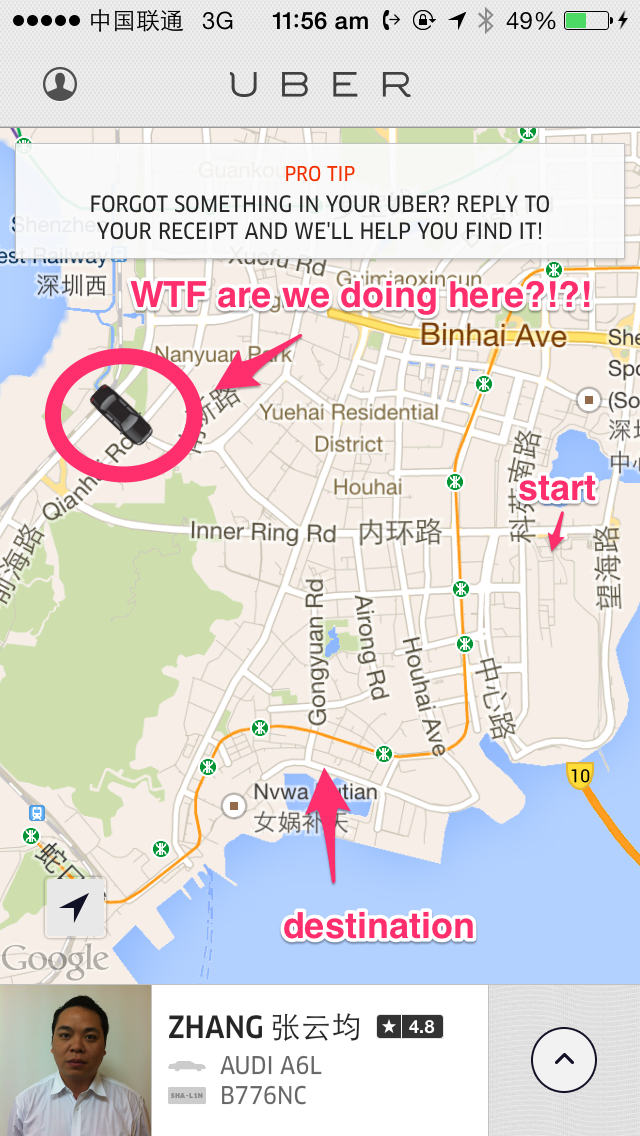 Shenzhen is an immigrant city in China. Very few people grew up there. Unlike cities like Guangzhou and Beijing where cab drivers are often locals who have spent their whole lives there, Shenzhen cab drivers are always from other parts of China. Uber Shenzhen seems have run into the same problem as the cab companies finding drivers who know the city.
My first Uber Shenzhen trip took 60 minutes and over 22 km to go what's only a 25 minute 9 km trip if you follow Google Map's out of date directions. It's even less if you drive using road signs and a sense of direction instead of following GPS.
Subsequent trips in Shenzhen were much smoother, but all saw the drivers using GPS to find the location of landmarks so well known that someone like me who has never lived in Shenzhen and only driven in the city 2 or 3 times has no problem finding.
This was in stark contrast to Uber Guangzhou drivers that had no problem finding even the obscure locations I could throw at them as someone who lived in Guangzhou for the better part of 7 years. One even pointed out that the name I was using for a place was actually the name from a decade or so ago. None of them needed to use GPS. Impressive!
3. Uber Guangzhou needs to ditch the VW Passats
Uber Guangzhou offers Mercedes E-classes, Audi A6Ls and something called the VW Magotan. It turns out Magotan is just the name for the locally produced VW Passat. My first Uber Guangzhou trip was in one of these vehicles. I felt pretty silly watching empty VW taxi cabs pass me by that by using Uber I was paying more money and waiting longer to take a car no better than a taxi.
It seems to me that one of the biggest selling points of Uber's black car service in China will be the face you gain by showing up in a luxurious ride with a well-dressed, professional driver. Showing up in a Passat instead of an Audi or Benz isn't quite the same.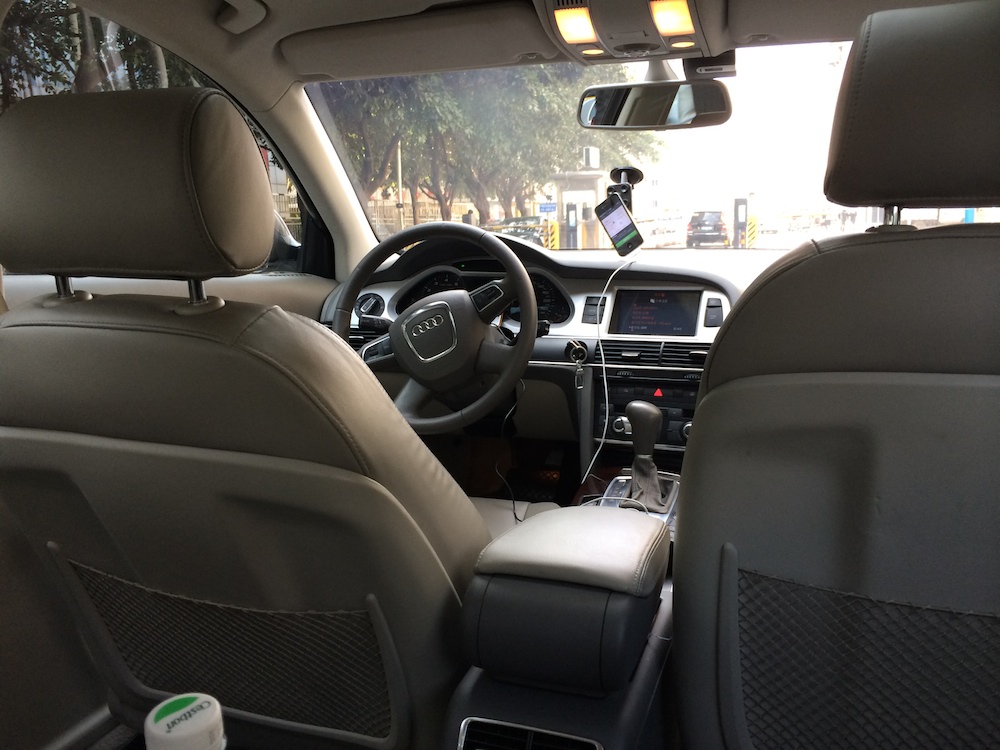 4. Uber needs to accept China Unionpay
As of this post, Uber only accepts Visa, Mastercard, American Express and Discover as payment for trips in China. Chinese Yuan denonminated fares are converted to U.S. Dollars before being deducted from your credit card. This is a problem in a country where most credit cards are China Unionpay. You can't very well expect some living in a country with foreign currency controls to make a cross-border foreign currency transactions to get home at night from their local bar.
But word from Uber is that they have deals with local Chinese payment firms in the works and hope to be able to accept Unionpay and other local payment solutions shortly.
5. Uber drivers can't call non-mainland numbers
My first experience with Uber was a pick up at the Shenzhen Bay Immigration Control Point right after clearly immigration from Hong Kong.
The roads look like spaghetti on the map and there's no way to tell if a given road on the map will allow an Uber car to drive. Apparently the position I gave my Uber driver on the map was some place that wouldn't let private vehicles enter. He couldn't call the Hong Kong mobile phone number on my Uber account because you need to enable international calling to call from mainland China to Hong Kong. I didn't know he couldn't find me. Luckily Uber Shenzhen's Martin Li had added me on Wechat and sent me a Wechat message to let me know the driver couldn't find me.
It seems to me one on of the biggest customer bases of Uber, especially Uber China, will be people visiting from overseas used to using Uber in their home market. Are Uber users expected to update their accounts with local phone numbers whenever they travel?
So why do I love it?
Uber changes the social dynamic of transportation in China. It takes away the stress of getting from point to A to point B. No more running after taxis. No more driving in circles around parking garages looking for a spot. No more random people asking you for money to "watch" your car parked on the street. No more automated traffic "infraction" tickets issued by corrupt local governments. No more interrupting the flow of the evening with a noisy phone call to your driver or a car service...a few quiet taps and your Uber will be waiting. No more excuses from the fu'erdai, or rich second generation that they need to drunk drive their expensive imported luxuries cars to and from clubs because they need face. No more wallets stuffed full of tiny taxi fapiao.
I showed the app to some friends at a dinner in Guangzhou...the type of people that drive nice cars everywhere even if it's inconvenient. They asked me...what car do you get? I pointed out the plate glass window at the A6L and Uber driver in a suit. Their eyes grew wide before they looked down at their phones and started searching the App Store for the Uber app.
Are you in Guangzhou or Shenzhen and new to Uber? Use the code LarryGZ or LarrySZ to get two free rides! Sign up here!
Have you tried Uber in China yet? Let me know what you think in the comments!