Update: Bitstamp CEO Nejc Kodrič issued a comment via Twitter an hour or so after this post went live
Bitcoin had a rough year in 2014, losing much of its value. The first few days of 2015 aren't looking much better. Since January 3rd, we've watched the price of Bitcoin fall another 20% after 2014 spectacular year long plummet. To add insult to injury, those of us in Asia woke today to the news that Bitstamp is having problems with deposits and withdrawals. Speculation is flying on Coin Dojo & Reddit that we're already seeing Mt. Gox 2015-edition.
Rational people with common sense would think that Bitstamp would have learned from Mt. Gox's failures in leadership and communication and error on the side of being incredibly forthcoming and transparent. Yet, there's been no official comment from the company regarding whatever "issues" they're experiencing beyond a red lettered message warning customers that deposits to old addresses will no longer be honored.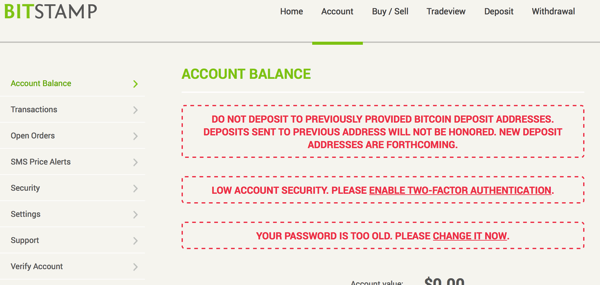 Bitstamp's official twitter account hasn't had a tweet in 3 days and their [CEO Nejc Kodrič] hasn't had [an original tweet since November 1, 2014. His attendance on Bitcoin Talk is no better: he hasn't been seen there since October 2013. Searching for him on the Internet isn't much more help: he doesn't seem to have a personal website or blog. If it wasn't for a couple YouTube interviews we wouldn't even be sure Mr. Kodrič even exists!
A CEO is the human face behind a company. When a company encounters a crisis and a CEO like Nejc Kodrič can't even be bothered to tap the Twitter icon on his phone and spend 140 characters letting his company's customers know he's looking into it, customers are right to fear the worst. Bitstamp has already failed. Users will never trust it again.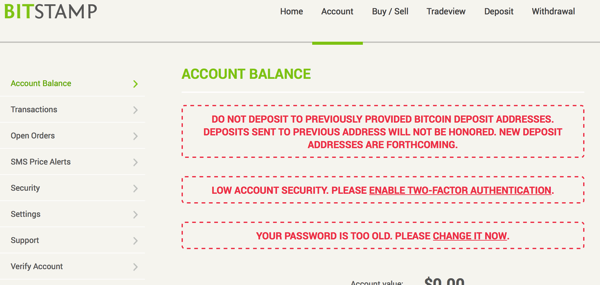 The problem with first generation CEOs of Bitcoin companies like Nejc Kodrič and Mark Karpeles is that Bitcoin let nerds sitting in their parents' basements get rich without having to go through the growing up process of learning the leadership, management and social skills that no tech entrepreneur can succeed without.
When your business handles other people's money, it needs to managed by people who understand that money is as precious to people as lives. A hacked Bitcoin exchange is like a downed plane - wealth is the capital that funds people's hopes and dreams. Stolen bitcoins kill dreams like a crashed plane kills families.
Bitcoin CEOs should be looking to people like AirAsia's Tony Fernandes and Virgin's Richard Branson as examples of how to handle a crisis when your business is handling people's hopes and dreams.
Tony Fernandes handled the disappearance of AirAsia's flight QZ8501 admirably. He was transparent and communicative despite the fact no one knew for days what happened. He didn't hide in a room and wait until the case was solved (what his lawyers probably recommended) before talking to the press.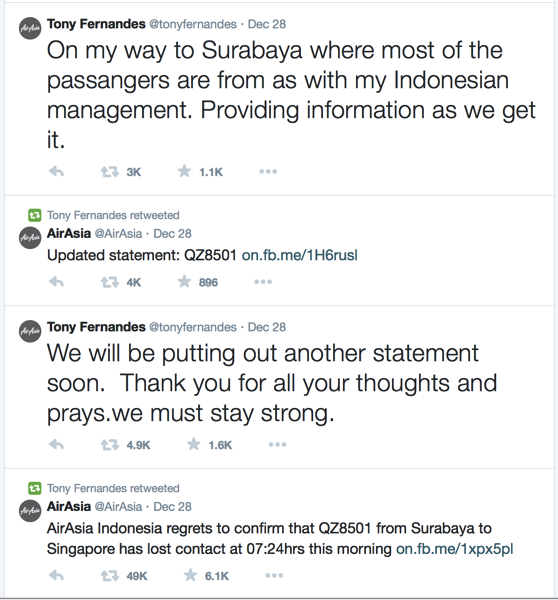 Because of Mr. Fernandes's honesty & transparency I was 100% confident of flying his airline on a ticket I booked within hours of flight QZ8501's disappearance. Based on Nejc Kodrič's handling of Bitstamp's current crisis, I will never use Bitstamp again.
Richard Branson's handling of the SpaceShipTwo crash is another great of example of the right way for a CEO to handle a company crisis.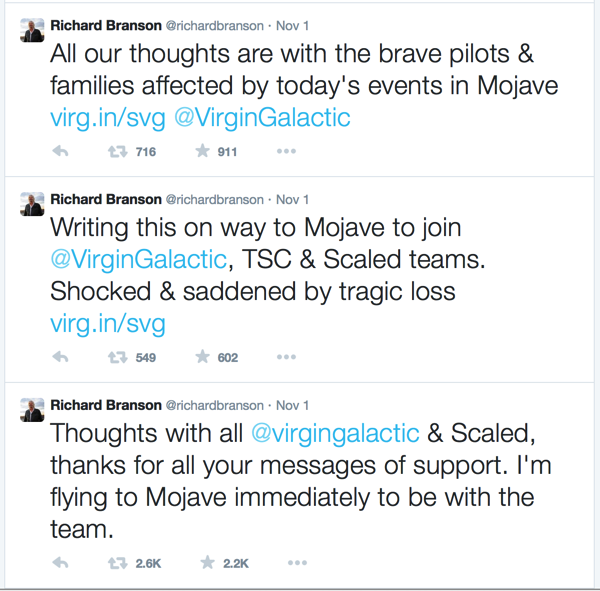 This advice isn't just applicable to plane crashes and theft of Bitcoin. Even smaller problems can feel big to your customers - that's why its important for all CEO's to be engaged and proactive. Here at Pay4Bugs, my co-founder C.S Hsia and I don't hesitate to jump on the phone, personally email or visit customers when times are good so in the off chance they have a problem, they are confident that we'll make it right. This is the human aspect of tech businesses and done right is one of the most rewarding.
Luckily for Bitcoin and blockchain based technology, second generation Bitcoin CEOs and Founders understand this human aspect of business. They understand that customers want to know someone with a pulse is thinking about and caring for the Bitcoin. People like: ANX's Ken Lo who is always out and about in Hong Kong at Bitcoin events pumping the flesh and supporting the community. Ryan Shea of Onename who is very active on Twitter and replies to (PGP-encrypted) emails and iMessages incredibly fast. Gatecoin's CEO Aurélien Menant who manages to attend and speak at every event. BitMex's Arthur Hayes who finds the time to personally write a newsletter filled with trading advice and to his customers once and sometimes even twice a week.
As the Nejc Kodričs and Mark Karpeles of the Bitcoin shadow world get chewed up and spit out by reality and exit stage left, movers and shakers who understand that technology without a soul is worthless will take the lead. 2015 promises to be a bright one for Bitcoin & the blockchain. Happy 2015!