Offices are expensive and no one really likes to go to them. When we had an office at Pay4Bugs, I found myself going anywhere but the office when I needed to get serious work done. Other members of our team felt the same way.
Peoples' lives aren't static, as they grow and form relationships things change. One of the things is often where they want to live. Should you stop working with an otherwise awesome team member just because they want to live in a different city or country? Marissa Mayer may say "Yes," but my answer and that of others in my generation is a resounding "No!"
The Pay4Bugs team is spread out between New York, Hong Kong and Guangzhou - and there are immense benefits to having people in each of these places both to the company and to the individuals. We wouldn't have it any other way.
I'm based in Hong Kong and often get asked by others in the HK tech community where I work since it's no longer out of a proper office. They don't see me at the coffee shops and the co-working spaces. I don't drink coffee, so coffee shops have never made much sense to me. When I was studying Chinese years back in college, I used to spend obscene amounts of money on Starbucks hot chocolate while I practiced my characters. But that doesn't seem a very wise investment as metabolism slows with age.
Co-working spaces also never really appealed to me - you essentially replace a rent check with a check to the co-working space. Instead of a quiet and distraction free office, you get an shared space full of interesting and socialable people. Maybe it's just me, but I find it difficult to focus in such an environment. The temptation to chat under the guise of networking is just too great. They're horrible places for me to get stuff done.
So where do I work in Hong Kong? Well I have a home office - a quiet separate room dedicated to work on the 20th floor with gigabit internet, dual-band wifi, a custom router and ZFS storage pool and a beautiful view of the mountains to boot. And some days, I stay at home and work out of the home office. But many days I find I am more productive with my mobile office working from somewhere else in Hong Kong. Today, I'm going to tell you about my top six favorite places to work out and about in Hong Kong:
6. The Library!?
I bet you're thinking, "Are you still in college, who over the age of 22 works in a library?" No, but hang with me...I have good reasons for liking the library.
Hong Kong has more than 60 public libraries spread throughout the city. They have free wifi power outlets, couches, desks and tables and excellent air con to keep you cool on hot summer days. They're open every day of the year save for a subset of seven public holidays.
My favorite libraries for my mobile office are the Hong Kong Central Library and the Tin Shui Wei Ping Shan Library.
Hong Kong Central Library in the center of all the action on Hong Kong Island between the Causeway Bay and Tin Hau MTR stations. It offers (free) desks with power outlets that have a beautiful view of Victoria Park and food and drinks on the ground floor by the rear entrance.
Tin Shui Wei Ping Shan Library is one of Hong Kong's newest libraries and one of the closest to the border with China. It's upper floors have desks, huge couches and tables with views of the mountains of the New Territories. There's also an indoor pool in the same complex which makes it great for doing a few laps while you think though tough problems.
The best part about libraries is that, unlike Google, they don't filter bubble you. Sometimes you stumble across a great book that solves a problem you hadn't even considered in a topic area you didn't even know existed just by wandering browsing the bookshelves. Libraries are one of the best tools to help you create serendipity.
5. Public parks
Hong Kong has dozens of green, leafy public parks complete with grassy fields, gazebos, restroom and refreshment facilities. Did I mention they have free wifi?
My favorite park is Yuen Long Park which has a part aviary, part lookout tower pagoda. The top levels of the pagoda have benches and on clear days offers views of most of the northwest New Territories and even across the border (and the Great Firewall) to Shenzhen from Nanshan to Futian.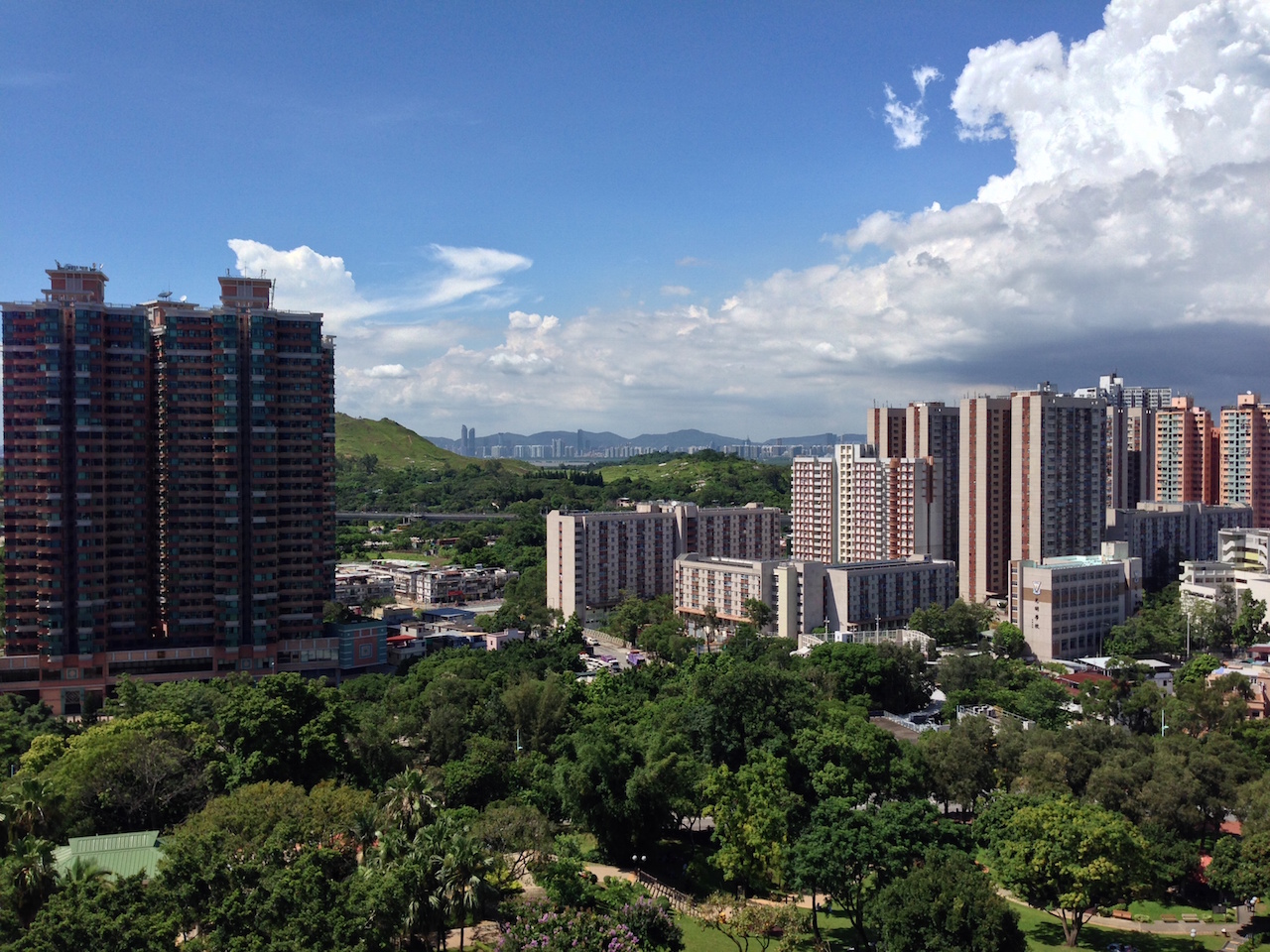 4. Public swimming pools
I'm a swimmer - so I spend a lot of time at pools - I'm in one almost every day. Luckily, Hong Kong has a lot of really nice public pools, 43 pool complexes to be exact, each with multiple pools. Besides being great for swimming, a little known secret is that most of Hong Kong swimming pools have large spectator stands which double as great locations for your mobile office.
Swimming pool spectator stands are free, usually empty and the ones at outdoor pools are shaded from both the sun and the rain. My favorite pool for working in the stands is the Tung Chung Swimming Pool, a large indoor yet partially open to the outdoors natatorium located on Lantau Island near the airport. The pool is just across the street from the large Food Republic food court at the CityGate Outlet Mall, which makes it easy to grab some inexpensive, quick eats to keep you going.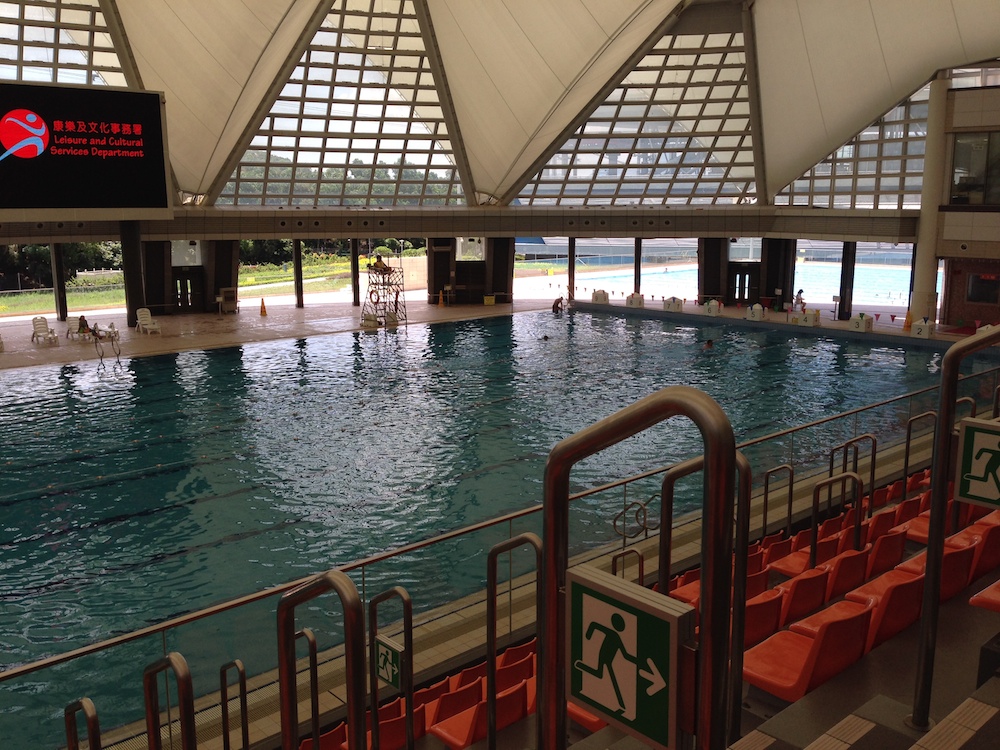 3. Mountain tops
You're aiming for the top of the world, so why not work there? Bring your mobile office to a mountain! Working on top of a mountain with nothing but the sound of the breeze and clouds moving by gives me a chance both to see the big picture and focus on the details away from the complexity and distractions of day-to-day, city life. In Hong Kong, with more than 100 mountains and peaks all a short ride away wherever you are, it's easy to bring bring your mobile office to the top of the world.
My mountain of choice is Hong Kong's tallest peak, 957 meter Tai Mo Shan. You can drive much of the way up the mountain or hike up the trail that follows Tai Mo Shan Road. There are several grassy openings along the trail with picnic tables along the 500 to 700 meter levels. I like to camp out a table near the top that looks north over Yuen Long and the huge valley between the mountain and Shenzhen.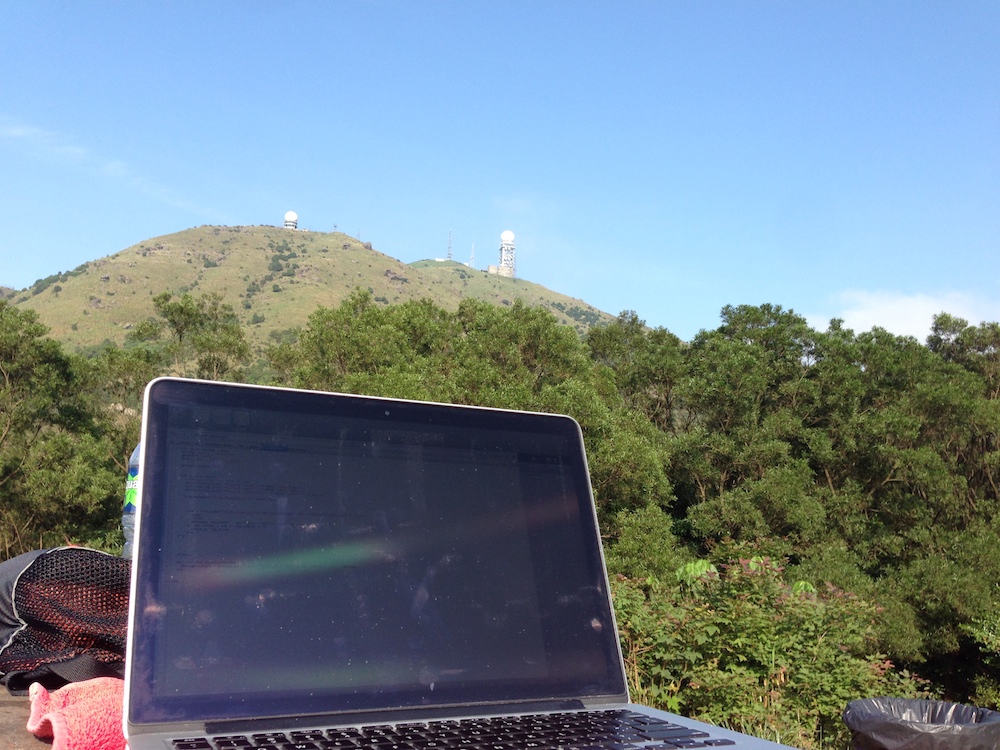 Unlike most of the other places we've mentioned so far, there's no power or wifi on Tai Mo Shan, but Internet access isn't a problem because there's 4G LTE coverage. Just make sure you bring plenty of battery power for your laptop and phone!
Pro tip: Need to make calls to Mainland China but don't want people to know you're in Hong Kong? Tai Mo Shan and many of the other peaks in the northern New Territories have strong cell phone signals from the mainland - just bring your sim card and select the right network!
2. Beaches
You may have gathered I like water and the outdoors. So it's no surprise working at the beach is near the top of my list of favorite places to get work done in Hong Kong.
Unknown to much of the world that associates Hong Kong with tall buildings, high finance and dim sum (char siu bao yum!), Hong Kong has almost one hundred beaches. The forty or so government managed beaches have lifeguards, swimming areas, shark-prevention nets and changing room/shower facilities. And most of these have free wifi!
My favorite beach to work at is Big Wave Bay Beach on south eastern Hong Kong Island. I typically go for a late morning swim, grab early lunch and a table at the the restaurant on the edge of the beach. This leaves enough time for a solid 6 hours of work before an end of the day swim.
Get reading for #1, after the jump! Drum roll please!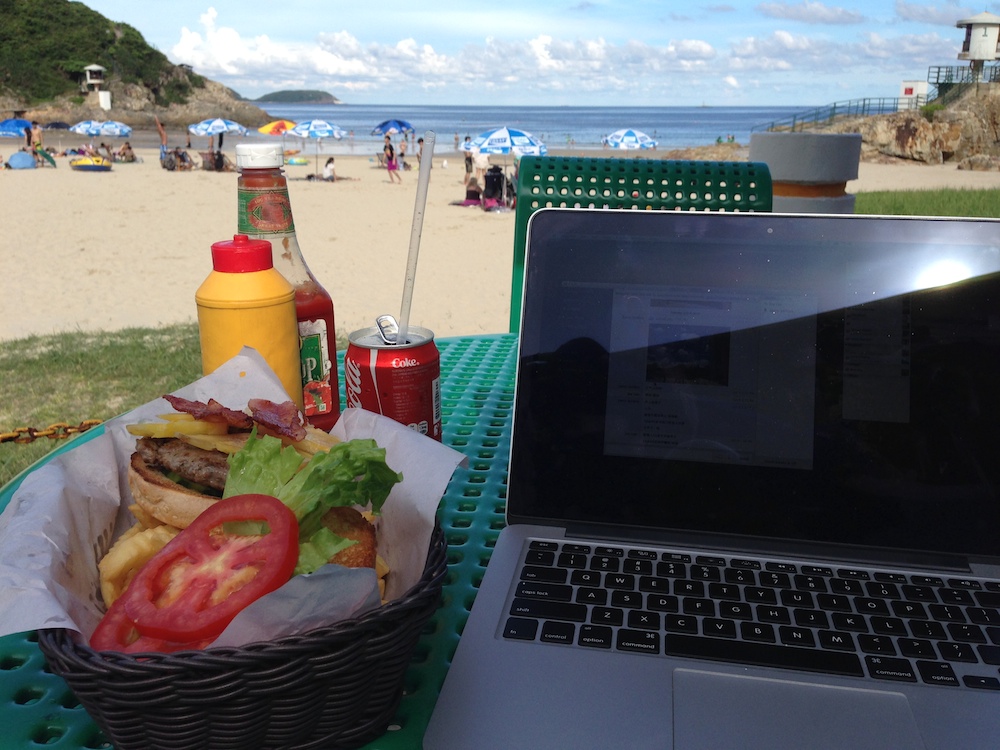 1. Hong Kong International Airport
The airport?!? Business travelers everywhere must be confused - to them airports are a thing of nightmares - late flights, missed flights, security lines, expensive food, uncomfortable seats.
But Hong Kong International Airport (HKIA) is different, in a good way! If you're not going anywhere (in the physical sense) but your business is headed to great places and you're looking for a place to get stuff done, HKIA is the place to be. It has all of the basics covered: it's easy and cheap to get to HKIA from most of Hong Kong. There's free wifi and power outlets galore. Don't like that your co-working office closes at 9pm or 11pm? No problem, the airport is open 24 hours a day, 365 days a year...366 days in leap years.
And there's more: There are dozens of restaurants covering every taste and budget and the ones outside of security are no more expensive than elsewhere in Hong Kong. There's even a Popeye's Chicken for those of you looking for some great Louisiana fried chicken and buttermilk biscuits!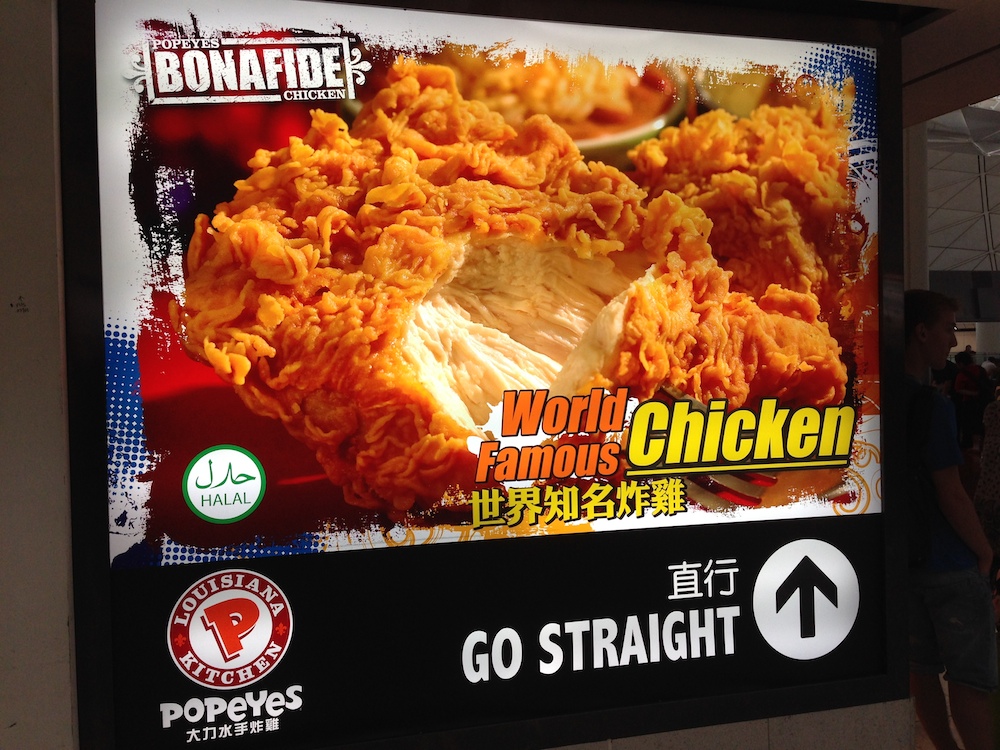 Meeting rooms? Check! Press conference room? You bet! Showers! Of course! IMAX theater? Got it! Massage? What's that!? Are you telling me that your co-working space doesn't have on-site massage and an IMAX theater? That's so...backward.
HKIA has several great places for your mobile office. Here are two of my favorite:
Terminal 2
HKIA is unique among airports in that its 2nd terminal, Terminal 2, doesn't actually have any planes or a "secure" area. It's just a big airy mall with some check-in counters. If we were just interested in HKIA because it's a mall, that wouldn't make a lot of sense because Hong Kong is covered in malls. But Hong Kong malls are filled to the brim with shoppers and noise - hardly good places to get work done.
HKIA's Terminal 2 is pretty low traffic as malls go. Most people head straight for the check in counters and then off to Terminal 1 for their flights. I like to grab a big table in the second floor food court by the big multi-story windows and watch planes land and take off over the ocean as I code away.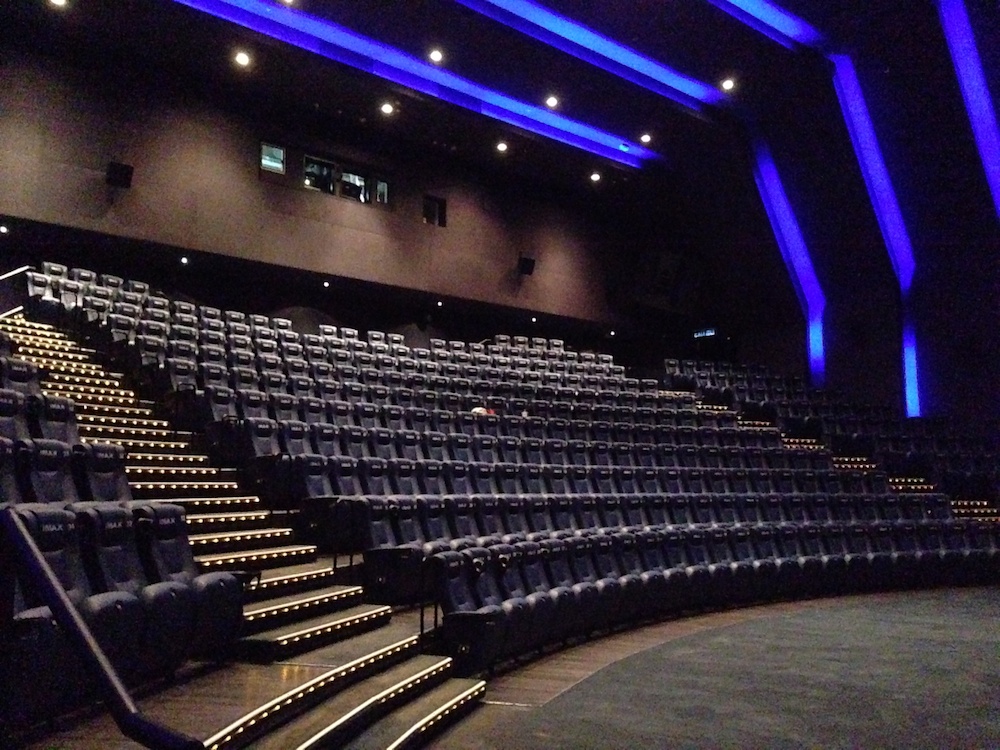 Did I mention HKIA has an IMAX theater? It's also in Terminal 2 and is not only the 2nd largest IMAX theater in Hong Kong but also the cheapest. It's also usually close to empty...rarely are there more than a dozen people in a theater that holds 350.
Pro tip: Sometimes I'll motivate myself by treating myself to daily 9:30pm showing of the latest IMAX blockbuster...if I meet the day's work goals.
Charging stations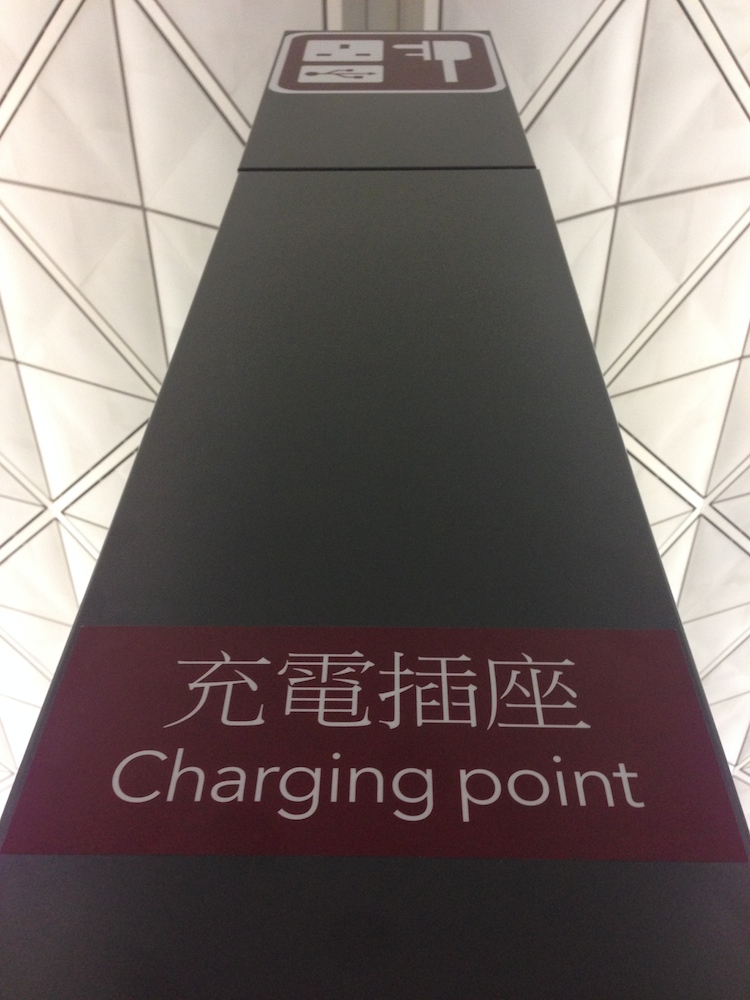 For those of you who are fitness-minded and looking to get away from a sedentary life of sitting in front of the computer, HKIA Terminal 1 has the answer for you. There are series of charging stations strategically placed among the check-in rows on the departure level of Terminal 1 that are perfectly designed standing desks. Each charging station has two standing desk height laptop platforms, two usb charging ports and four 220v outlets. This makes them perfect for collaborating with another member of your team.
Pro tip: Bring a travel plug adapter and offer to lend it to jet-lagged executives trying to charge their US or EU laptops in HK's British plugs - you'll make a friend and might even make a sale.
Where do you go to get work done in Hong Kong? What are your favorite places to work in your city?